US Federal Government: Medicare Access Dental Care
Nov 1, 22 - U.S. Department of Health and Human Services (HHS), through its Centers for Medicare & Medicaid Services (CMS) announces expanding access to Dental Care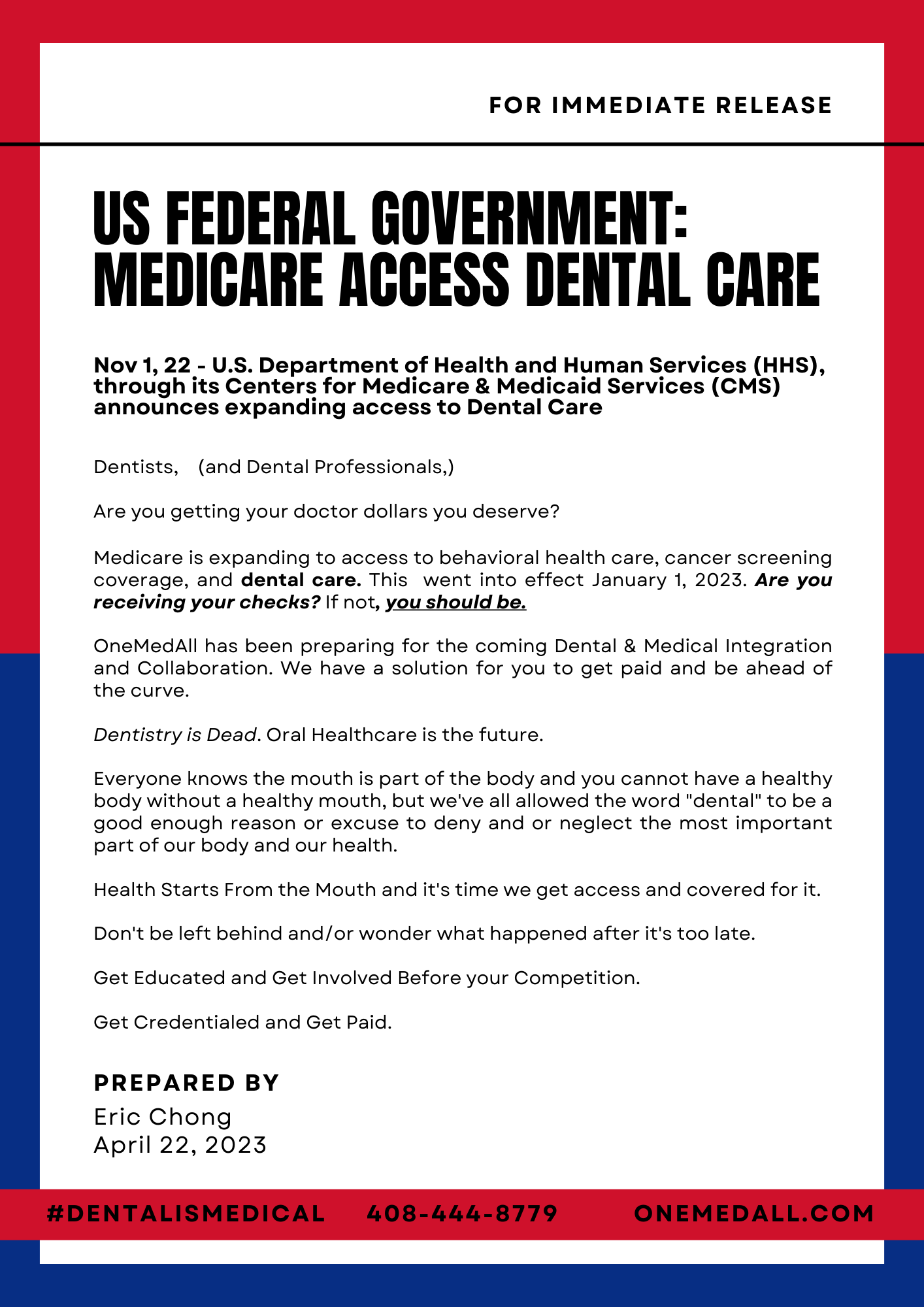 Dentists, (and Dental Professionals,)
Are you getting your doctor dollars you deserve?
Medicare is expanding to access to behavioral health care, cancer screening coverage, and dental care. This went into effect January 1, 2023. Are you receiving your checks? If not, you should be.
OneMedAll has been preparing for the coming Dental & Medical Integration and Collaboration. We have a solution for you to get paid and be ahead of the curve.
Dentistry is Dead. Oral Healthcare is the future.
Everyone knows the mouth is part of the body and you cannot have a healthy body without a healthy mouth, but we've all allowed the word "dental" to be a good enough reason or excuse to deny and or neglect the most important part of our body and our health.
Health Starts From the Mouth and it's time we get access and covered for it.
Don't be left behind and/or wonder what happened after it's too late.
Get Educated and Get Involved Before your Competition.
Get Credentialed and Get Paid.
---
Join our 30/30/30 Challenge
Join the 30/30/30 Movement, it's a 90-day challenge for any dental practice wanting to increase their revenue by 30%, reduce their overhead by 30%, and/or get 30 new patients in the next 90 days.
You can click on the link below or copy and paste https://onemedall.com/333 into your browser.